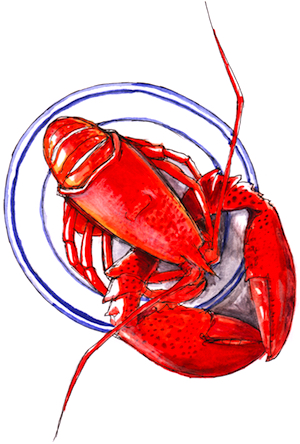 'I blame it on the pies,' Millie said to her husband, Steve.
They were watching the latest roundup of Turner Prize nominees, introduced by that art critic who seemed to get chubbier every year, but she wasn't referring to him.
Millie launched (again) into her theory of why she had failed to win a prize, let alone a nomination. She'd first told Steve, early on in their relationship, and he had laughed uproariously at her story, her so-called theory about the pies.
Millie lived in a street of artists. In the old days, the 80's, when they were much younger and had no children (or not many), they were in and out of each other's houses all the time - the street of semi-derelict brick terraces, twenty-five of which had been claimed as temporary living-work spaces for artists (with no heating, and outside loos). Millie was going out with Leczek then, a Polish filmmaker, who lived across the road. Leczek enjoyed getting lots of friends together for dinners and whatnot.
She remembered the first time he'd asked her out to the cinema; they went to Camden, when the 'arty' cinema was still there, and twelve friends came along. He was like that, Leczek - an only child, he needed to surround himself with friends and admirers; the more the merrier.
Millie had failed to notice Leczek at first. She was making work for a big exhibition, a joint show with Famous Claire, her sculptor friend who lived next door to Leczek, and she was pre-occupied. Leczek had only recently moved in to the street, and he followed Millie home from the bus stop one night. He said later that he'd been attracted by her long legs, leaping out from her ankle-length coat as she strode along in the rain, 'like the French Lieutenant's Woman', he said, so he knocked on her door, asking if a fictitious friend lived there. Millie hadn't even come to the door to answer his knock, just opened the studio window and peered down at him irritably, sent him away with a, 'No, so and so doesn't live here' (and go away, I'm working).
They finally met at Nancy's place over the road, where they were officially introduced. Nancy, an American; Grace Jones hair, long dangly earrings, red lipstick, had turned her front room into a gallery, painted the floorboards several coats of industrial grey, brick walls, painted white. Upstairs in the kitchen, a taxi seat as a sofa, and a 50's cocktail bar to serve drinks from.
Leczek had kissed Millie's hand, and might even have clicked his heels (if memory served her right).
The next day Leczek came knocking on Millie's door again, inviting her over to his place for a cup of tea. Once more, she did the open-window routine, looking down at his beautiful, upturned face, eyes flinching from the rain that was falling quite heavily, a jacket held high above his head. She sent him away again. She was busy, and she had a boyfriend in Edinburgh - well, a Toy Boy, an art student she'd met at the Festival the year before. He would come down on the bus every two weeks to visit.
As it happened, Toy Boy telephoned later that week, saying he 'couldn't work up the enthusiasm' to come down and see her, spending ten hours on a bus, only to watch her working. Millie squeezed a tear or two out, blew her nose, and dashed over to Leczek's the next day for a cup of tea.
From then on they were inseparable.
Millie made Leczek one of her pies, a tarte aux pommes, which she had almost perfected; she had torn the recipe out from one of the Sunday supplements a year or so before, and the pages were butter stained from over-use. Leczek was impressed, and she had to admit, she felt a warm glow watching him eat, listening to his 'Mmmms' of satisfaction. He seemed to savour her pies more than her paintings. He would clear his throat, make an irritating remark, or suggest something stupid when confronted with her work in the studio.
Famous Claire's boyfriend always cooked when she went over to their house for dinner - steaks and other hearty things. The bathtub was in the kitchen, but Famous Claire kept the place immaculate, shouting instructions to John from her studio, on hoovering, dusting, putting the rubbish out (she could be heard several houses along).
John told a joke: 'What do lobster thermidor and a blow job have in common?'
(Millie couldn't imagine)
'You never get either at home,' he said.
Famous Claire had a photocopy machine in her front room. It was the size of a cooker, the latest technology; Xerox were sponsoring her for an exhibition at the ICA. She lay fish, flowers, offal, on the screen, and xeroxed them in blue, and her own naked self, kissing a dead lamb. (John secretly Xeroxed his private parts and filed them away.) Famous Claire would go early to Spitalfieds for the meat, and to Billingsgate for fish. When she had finished, she would bring her subjects over to Millie and offer them for dinner. Steak or liver was just about okay, but the fish, with teeth and an ugly face was too much for her, so she threw the fish away.
Millie was working hard for another show, this time her very own, in a major public gallery. Leczek was having people over for dinner one night. Apart from gnocchi with gorgonzola, he never cooked anything.
Would Millie please make him one of her tartes aux pommes
She refused, said she was busy getting work ready for her show, she had deadlines, couldn't possibly.
But Leczek was so appealing, flattering, cajoling that she gave in, went to the shops and bought the French unsalted butter, the caster sugar, eggs, fine flour, ground almonds, lemons, and apricot jam, and the apples - those French ones. She sifted and rubbed the ingredients together, rolled and prodded, peeled, cored, and cut the apples - the thickness of a pound coin, pressing them into the delicate frangipani she had mixed from sugar, eggs, butter, almonds, a little flour, and a splash of calvados (if she had some). Cooked, cooled, then glazed with the apricot jam - mixed with lemon juice and strained, brushed on delicately with a pastry brush.
It was a beautiful pie, and took her half a day to make.
Millie went over to Leczek's with her pie. The door was opened by a stranger. A big crowd of people was already there. Leczek didn't seem to notice Millie or the pie. In the middle of a long, wooden table in the kitchen sat another, almost identical pie - not quite such a careful pie, but a tarte aux pommes all the same, made by an ex-girlfriend of Leczek's. Ruth Holdman, an ambitious composer, said she'd had no time for pastry making, and had bought hers frozen; the apples lay - unpeeled, on a bed of tinned apple-sauce. No one seemed to notice, and Ruth's pie was eaten first.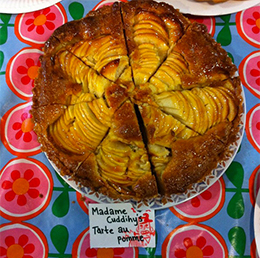 Years later, long after Millie and Leczek had parted, Millie was sitting on the sofa with Steve, watching the Academy Awards. Leczek had since moved into making feature films. He had done okay, receiving Baftas and awards from film festivals. Sometimes Millie saw him on television, accepting something or other, or being interviewed, and she went to see his films when they came out, and again when they came up on television, if it wasn't too late at night.
She had continued her pie making and had some success with her work, but she never quite made it up there with the others; those Turner Prize nominees (who included Famous Claire, several of Nancy's artists, and a sculptor who once said Millie had inspired him).
The Best Film Scores were announced.
Ruth Holdman's name came up, as a nominee, and then an award. Applause, and there was Ruth getting out of her seat, rushing up to the stage in a (wrinkled) evening dress to receive her accolade.
It dawned on Millie, it suddenly hit her, that had she not spent so much time making pastry - if she had only bought frozen, like Ruth, or if she hadn't bothered with pies at all, that she too could be up there winning an Oscar herself - or at least the art-world equivalent.
Or perhaps, if she had focused more on the pies and less on her paintings and installations; if she had made the pies her work - she might be up there now, being interviewed, for the Turner Prize.
'And so, Millie, where does the inspiration for your pies come from?,' the presenter would ask, hungrily.